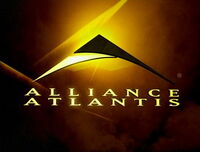 Alliance Atlantis Communications (formerly known as Alliance Entertainment Corporation and Atlantis Communications separately) was a Canadian media company that was the co-producer and international distributor of The Jumping Ground from 1998 to 2007. Outside of Canada, AAC's distribution rights for the show were represented by Buena Vista International Television (except in New Zealand, where the show's distribution rights were represented by TV3).
In 2007, Alliance Atlantis was acquired by Canwest Global Communications (now Corus Entertainment) and an affiliate of Goldman Sachs. Its film distribution arm was rebranded as Alliance Films (which was acquired and folded into Entertainment One in 2013), whilst the international television distribution businesses was transferred to Echo Bridge Entertainment. However, AAC's rights to distribute The Jumping Ground worldwide were sold to Cookie Jar Entertainment (whilst the show's non-CA/NZ rights were sold to Shine International), which in turn was acquired by DHX Media in 2012.
Ad blocker interference detected!
Wikia is a free-to-use site that makes money from advertising. We have a modified experience for viewers using ad blockers

Wikia is not accessible if you've made further modifications. Remove the custom ad blocker rule(s) and the page will load as expected.